In WorkZone, your personal details and bank accounts can only be viewed in read-only format. That is, you are unable to edit any of these details via WorkZone. If you do need to make any adjustments and your payroll administrator has given permission, you can do this via your Employee Self Service Portal (using the same log in details you do for WorkZone). Alternatively, you will need to contact your manager or payroll administrator to make any changes. You are however, able to edit your emergency contacts if needed within WorkZone.
This article will detail the following functions:
In order to view your personal details and bank accounts you have to be logged in to WorkZone. You should tap on the Profile Icon at the bottom of the Home Screen: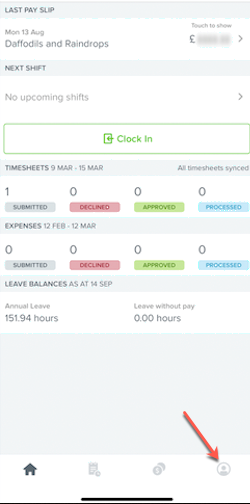 From here you can tap on either the 'My details' or 'Bank accounts' options from this list:

My Details
On the 'My details' screen you will be able to view the following information (NOTE: some of these fields may not be populated if they are not required or your administrator has not received the information):


Bank Accounts
On the 'Bank accounts' screen you will be able to view all the bank account details that have been set up. This includes any multiple bank accounts along with the fixed or percentage amount that your net pay will be distributed as:


Emergency Contacts
You are able to have up to 2 emergency contacts (a primary and secondary contact), and both of these fields are editable.
Editing your emergency contacts can be done by tapping on the '>' icon next to 'update primary contact' or 'update secondary contact' field.
If you haven't already, you can download WorkZone immediately by clicking here: