WorkZone allows you to display your personal calendar alongside any shifts that are visible for you, including assigned shifts, shift swaps, or biddable shifts.
When you log into WorkZone and navigate to the roster page, you'll have an option to enable your calendar so that it will appear alongside your rostered shifts:


After selecting the 'enable' option, you'll then need to give WorkZone permission to access your calendar:


The next step is to enable any calendar that is currently configured on your phone via accounts such as Google or Outlook. Simply click the toggle to include/not include the desired calendar:


Once the desired calendars have been enabled, the shifts and calendar events will be listed in chronological order according to the event/shift time: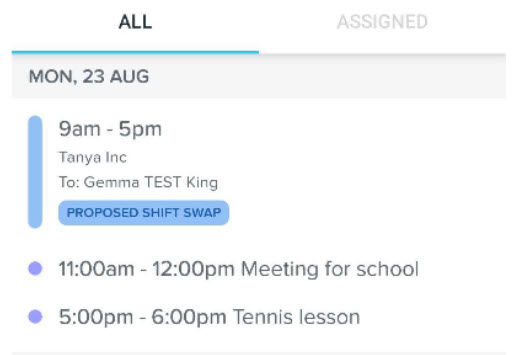 If the calendar contains an event that is occurring earlier than the shift, it will show the event details above the shift details. E.g. an event at 8am will appear before a shift that starts at 9am:
NB: If you enable the calendar events for your roster and then completely log out of WorkZone, you will need to enable the calendar events again when you log back in. In other words, after you log back in and navigate back to the roster screen, you will see the "Enable calendar events?" prompt again.
If, at any point, after enabling the calendar events you want to change which calendar you can view, or, if you want to disable the calendar events altogether, you can do so in the Settings > Edit calendars page.