If your employer has granted you access to create and submit your own timesheets you can access this feature of WorkZone in one of two ways.  (If you don't see the following options available on your WorkZone app please contact your employer, or payroll administrator.)
Firstly, you can select the timesheet icon at the bottom of the home screen: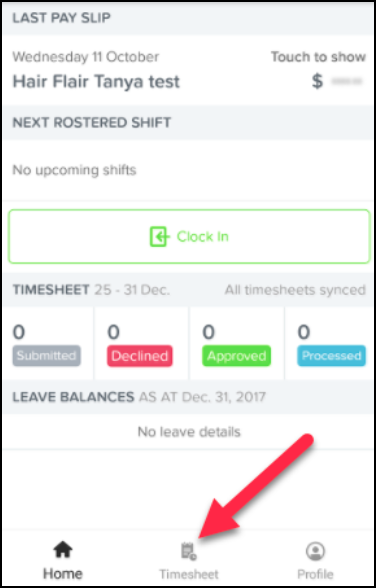 Or, you can tap on the timesheet area on the home screen:
Viewing Timesheets
You can change the view of timesheets to weekly or fortnightly by pressing on the drop down box at the top of the screen, and then scrolling down the screen to view further dates if necessary:
Timesheets are displayed with the following information:
Date
Start/End time
Status (approved, rejected, submitted or processed)
Number of hours worked
Location (employee default if none selected)
Work Type (if selected)
To view a different timesheet period, click on the left or right arrows in the date field box:
Creating Timesheets
To get started, click on the + symbol in the top right hand corner of the Timesheets screen. The data available to be entered is:
Work Type (optional, unless the business has marked this timesheet setting as compulsory)
Location (optional, unless the business has marked this timesheet setting as compulsory)
Shift Conditions (optional, this field will only appear if shift conditions have been set up for you or the location you are working at)
Classification (optional, this field will only appear if you are able to select a higher classification when working higher duties)
Date (required)
Enter Hours instead of Start/Stop times (optional if configured to allow hours instead of start/stop times)
Start/End Time (required)
Break/s (optional)
Notes (optional) 
If you want to pre-fill additional days with the same timesheet info, select the 'Apply this timesheet to' option and simply tap on the required days and select 'Done' when finished:
You can add additional timesheet lines to the same day if you click on the '+' button and select the date. This will allow you to add another timesheet on a day that already has a timesheet. 
The timesheets will then be sent to the approving manager/s.
Deleting a Timesheet
Find the timesheet the needs to be deleted and select it. Click on the 'Delete this timesheet' option:

NOTE - 
Timesheets that have the status of approved, submitted or rejected are able to be deleted. Processed timesheets have already been included in a pay run and therefore cannot be deleted.
If you haven't already, you can download WorkZone immediately by clicking here: